The Social Media and Mobile Revolution is here….businesses around the world have to learn and embrace how this fits into the overall marketing plan and day to day activities.
Your customers are looking for you on their mobile phone when they urgently require your services….and check you out in Social Media to read what others are saying about you…are you ready for this?
Check out these mobile facts:
Andrew R Edwards, the Online Profit Strategist is holding a presentation on the topic…and if you are in Brisbane or can make it to Brisbane for the date…it's well worth your time coming along
Here the details….click on the picture to get to Andrew's sign up page: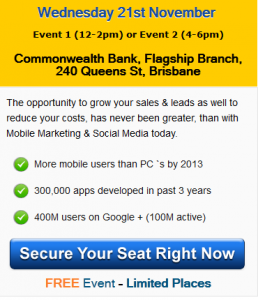 No tags for this post.