Attention Coaches and Consultants: learn the secrets to making your new business succeed…..
It's not always smooth sailing in a new business.. …let me give you the

Secrets

to

Succeed

from the start!
The

Consultant's Business Start Up Program

will reassure you in your new investment and give you the confidence to grow it beyond your wildest dreams. . .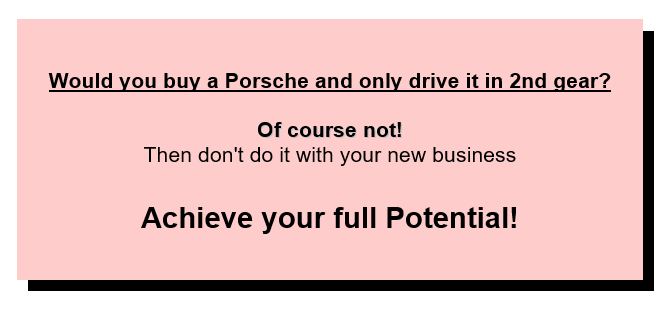 I've been working with businesses since 2010
I've seen them grow and prosper, crash and burn, and I know the various stages a business goes through inside and out. From this experience I have learned a number of valuable secrets about succeeding in business.
The most critical time in a business is at the beginning. . .
It's do or die, heaps of competition everywhere….
That's where this Business Start Up Program can help. . .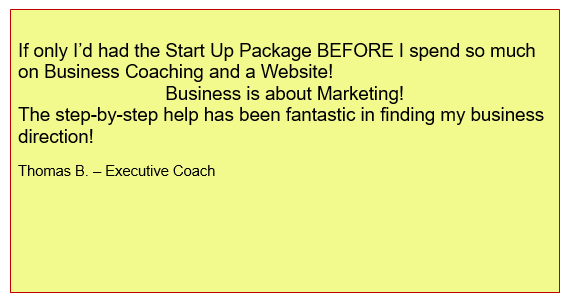 Why should every Coach & Consultant invest $2,495 in the Business Start Up Program?
…because you will discover:
5 Biggest Mistakes new Business Owners make. . . and how to avoid making them yourself
HELP! How do I find reliable, responsible VA staff? Where and what to look for in an employee as well as how to keep them
Real PROVEN Strategies for bringing clients on board quickly in your first 6 months
EXPOSED!! Why 1 in 3 new businesses fail within the first year of opening their doors. . . Know how to bypass being part of this scary statistic
Where to start? Who to talk to? What to put in place? When things don't go to plan? How to grow quickly? All your questions AND MORE will be answered in this must have program
What NEVER to DO when starting a new business
Excited about your new business but at the same time a little unsure?
You've got every right to be nervous about the outcome for your new business and being apprehensive about spending heaps of money so early on.
Let me offer you this Start Up Program for this unbelievable affordable amount of only $2,495!!!
Will this clear those butterflies in your stomach, and let you sleep well at night? Here is a step-by-step template of what you need to do in order to make your business boom from the beginning.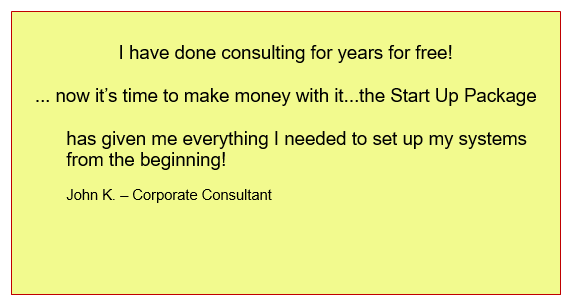 "But I have no clients and getting them takes time."
Everything takes time, but here are a few shortcuts to speed up the process. As a Marketer and Business Owner of several different types of businesses I understand consumer behaviour and have applied sales techniques and a variety of targeted Lead Generation Strategies.
But not only do you want new clients you want repeat sales and the key to building a client base that purchases continually, regularly and stays loyal. . .
Right now there are clients looking for what you have to offer…… get them to choose you!
Personalised Plans for Your Business
Your Business should not be some generic one size fits all solution to growing. For ONLY $2,495 you have access to the latest Marketing and Online Marketing information to suit your coaching or consulting business with your specific requirements. I have built on my personal experience, knowledge and success so you can take advantage of it.
Here's a brief look at the information you will have access to:
Planning and Measuring
Branding and what it really means
Marketing 101
Building a loyal client base
How to become your clients' First Choice
How to set up your Website
Keywords and where to find them
Where to start with Social Media
How will your clients find you?
Advertising: Why – How and Where
How to streamline your operations from the start
What makes you different and how to make this known
What NEVER to do when starting a new business
Staying Motivated and on Track
You will get all of this information plus more, specifically for YOU!
For ONLY $2,495
The Coach & Consultant's Start Up Program will give you everything you need to know to achieve successful results in your business
Make sure you join this Business Start Up Program today! There's no time to waste. . . In the early start up stage your business needs the right guidance and the sooner you start the sooner you will start seeing results!