Invitation to Write & Publish a Marketing Optimized Book with me
…Fast, Efficient, Effective!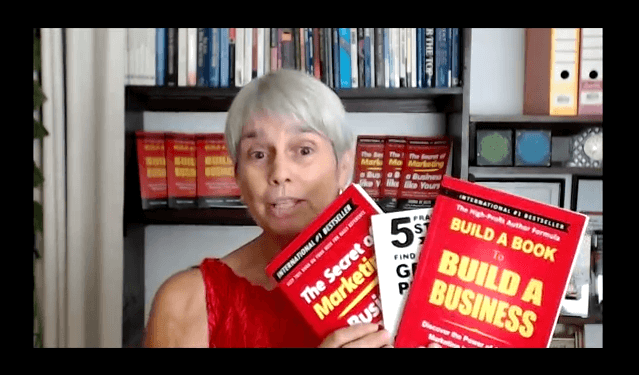 This is an Invitation for savvy, successful Women in Business who want to elevate their female leadership and authority and impact, empower and inspire positive change on a global scale with a book and do so in the least time-consuming way.
This 3-months program gives you a start-to-finish proven framework from planning and writing your book, through to publishing and marketing it (including editing, layouts, and formatting). We leave nothing out!
I work with you on the following:
1.- Plan to Inspire:
We will plan out your book to build on your credibility and elevate your authority. Together we'll start with the framework and strategy that allows you to write your book with the outcome you want to achieve (eg authority booster, lead magnet, client attraction & conversion aid etc.) This allows you to promote your book even before its published!
Included here is identifying the ideal client for your book, the best type of content and a book title that grabs attention. This is about positioning your book for the right audience so they're eager to learn more about you, your leadership, and your methods.
You will be writing a book that elevates your female leadership & authority so that even more people get to know about you and your amazing work or message!
With this proven writing framework, you'll be given a step-by-step method of writing your book in the shortest time possible (usually having it finished within the program).
This is your NEXT LEVEL of presenting your expertise, becoming the influential authority you are meant to be.
2.- Publish for Global Impact
Whatever you've heard about publishing so far, let me tell you, people focus way too much on finding a publisher, taking months to get replies to their publishing application, and with that waste tons of time to get the book to readers.
Instead, I'll show you step-by-step how to publish your message and share your vision on Amazon (the multi-million member and global buyer platform), in both book versions, Print and Kindle.
Amazon gives us all the tools you need for professional formatting of your book, creating your book cover, publishing a print version AND Kindle in one go and then you offer your book on the international, global market for sale, with all the royalties returned to you.
You can publish, even BEFORE you've completed your manuscript!
YES, Amazon offers you a pre-sell option 90 days out from uploading the completed manuscript.
Whether you'll take that option or not, your book launch strategy will be ready to activate for global impact and built on achieving exactly the outcome you wish to achieve with your book.
Embrace this natural elevation step and let your work touch lives on a global scale, leaving a powerful legacy of purpose and transformation.
3.- Profit with Purpose
From the start, throughout our time together and while you write your book, chapter by chapter, we'll dig deep into your brand and current marketing in our bi-weekly sessions.
What we are looking for here is the most powerful way to position you, your brand and expertise to effectively promote you and your book.
Working with me, you'll learn how you can write about your expertise without feeling like 'boasting' and instead (re-)gain your calm and confidence around the difference you're making in your clients' lives.
Here's how some clients describe this:
"Sigrid de Kaste is a true professional in her field.
Sigrid leaves no stone unturned to help you. Her advice is direct, creative and exhaustive. Sigrid has the ability to find out what you can't express (yet).
After a session with Sigrid you will be able to connect the dots of your existing book writing journey due to Sigrid's outstanding expertise."
Promoting your book can start as soon as your book title has been decided on.
With my help you'll map out your book launch and ongoing marketing, including how to write about your book (social media posts & articles) and who to connect with, so your message reaches a global audience and helps attract purposeful joint ventures and profitable business opportunities.
The program kicks-off with a personalised 1:1 book strategy and planning session and then we have 6x bi-weekly group training and Q&A sessions (up to max 5 people). You'll also have detailed instructional videos (which you can watch 24/7), worksheets and lifetime access to all the course material.
People who have successfully used this complete 3-pillar non-fiction marketing optimized book framework, have gained increased income (additional monthly $10,000), media appearances, speaker opportunities and clients ready to want to work with you (one even secured an international contract for $350k).
I've personally used this strategy and published three International #1 Bestsellers, of which each book built one of my businesses:
The first one returned me $25,000 in the first week of publishing, the second one returned $12,000 every month consistently in Website Work alone and the third one still attracts 1-2 coaching clients at US$5,000 each per month.
The program gets the best results for well established, savvy women in business, for example, consultants and leadership coaches, health and wellbeing coaches or anyone in the field of personal development.
The investment for this complete 'expert status' book program is still only US mid four figures, which compared to the time, energy and money spent trying to figure this all out on your own, engaging different processes for each phase and ending up with a disconnected path that jeopardises being able to market your book (I've seen 3-4 people a month with a finished book not able to be marketed!) this complete & interlinked writing, publishing and marketing approach is an easy YES choice!
If interested in writing your leadership & authority up levelling book in the fastest, smoothest, and least time-consuming way without compromising quality, simply make a FREE initial Appointment below.  If you are a good fit, in most cases, we can begin working together straight away.