**Invitation to Write & Publish your Authority Book in the SIMPLEST, SMOOTHEST and FASTEST Way with me!**
…without compromising on Quality!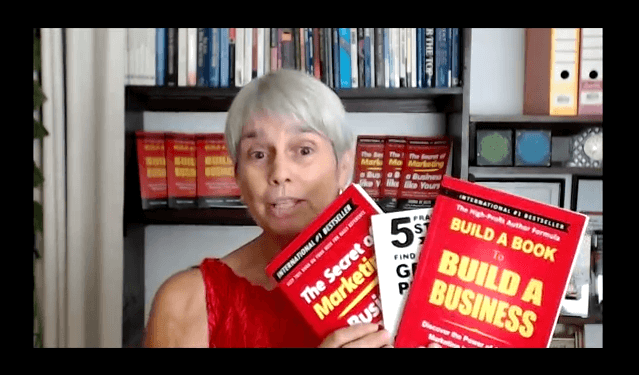 This is an Invitation for coaches and consultants with a proven expertise who want to write a book to help more people, make a bigger impact with their message and inspire the reader while attracting more clients more easily.
This 12-week program gives you a start-to-finish proven framework, working with me 1:1 and in a small group (max 5 people) where you write AND publish your Book AND map out a clear, simple to implement Book Launch and Marketing Strategy & Plan, both, for Marketing YOU and your Book.
I work with you and help you complete the following:
1.- Clarity & Strategy:
We start with the framework and strategy that allows you to write your book with the outcome you want to achieve so your book gains interest, credibility, and expert status even before it's published, and readers are ready lined up to want your book! This is about building a solid marketing path.
2.- Writing for your Ideal Audience:
In this step we identify your ideal client for your book, the best type of content and a book title that grabs attention, so you are positioned to attract the right audience so they're eager to learn more about you and your methods.
3.- The Fast-Track Writing Process:
Many people still take months, even years, to write their book because they use a different approach and a different service for each of the three stages of getting their book finished.
In my program you're working hand in hand on all three phases: writing, publishing & marketing, without stopping, starting, and waiting for others. You will know exactly when you'll be finished, which keeps you focused and motivated with excitement when you can tell people when they can expect to get their hands on your book!
4.- Expert Positioning:
We work on how to position yourself as the recognized expert and authority in your field, in the way most aligned with you, and in doing so, incorporate your 'story' into your book.
This is all about writing a book that is seen as credible, professional and an indication of your expertise. This is about you getting even more recognition for who you are and what you know.
5.- Publishing:
Loads of people focus so much on the publishing, some stop to find a publisher, taking months to get replies to their publishing application, and with that waste precious time to get the book to readers.
In my program I'll show you step-by-step how to publish your book on Amazon (the multi-million member and global buyer platform), in both versions, Print and Kindle.
This is a simple, straight forward process aided by online formatting tools directly offered by Amazon and I'll show you how to use these tools.
6.- Launching:
Your book launch strategy will be ready to activate and built on achieving exactly the outcome you wish to achieve with your book.
For example, you would have created excitement from the start of working with me to gain maximum sales on launch day. Or you may have interviews and media statements at hand if your outcome is to stand out as the expert and get paid speaking engagements. We design your launch strategy with your outcome to be achieved, in mind.
The program kicks-off with a personalised 1:1 book strategy and planning session and then we have 6x bi-weekly group training and Q&A sessions (up to max 5 people). You'll also have detailed instructional videos (which you can watch 24/7), worksheets and lifetime access to all the course material.
More than 800 people have successfully used this 6-step complete non-fiction authority book process, gaining increased income from media appearances, speaker opportunities and ready to want to work with you new clients easily (one even secured an international contract for $350k).
I've personally used this strategy and published three International #1 Bestsellers, of which each book built one of my businesses:
The first one returned me $25,000 in the first week of publishing, the second one returned $10,000 every month consistently in Website Work alone and the third one still attracts 1-2 coaching clients at US$5,000 each per month.
The program gets the best results for business consultants and leadership coaches, health and wellbeing coaches or anyone in the field of personal development.
The investment for this start-to-end 'expert status' book program is still only US mid four figures, which compared to the time, energy and money spent trying to figure this all out on your own, engaging different processes for each phase and ending up with a disconnected path that jeopardises being able to market your book (I've seen 3-4 people a month with a finished book not able to be marketed!) this complete & interlinked approach is a total no-brainer!
If interested in writing a business up leveling book in the fastest, smoothest, and least time-consuming way without compromising quality, simply send me a PM  back.  If you are a good fit, in most cases, we can begin working together straight away.