**Invitation to Write & Publish a Marketing Optimized Book With Me**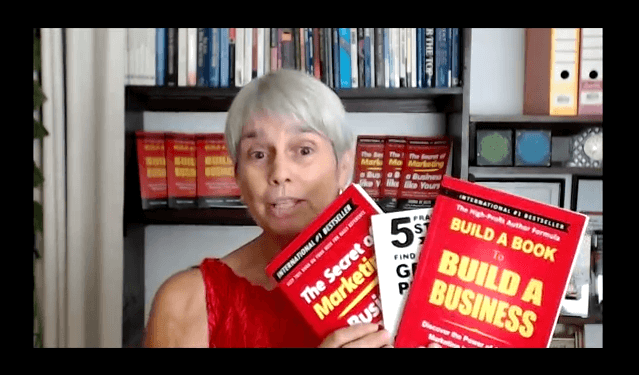 I have an amazing program for coaches & consultants who are dreaming about, and at the same time might be hesitating, to make their dream of writing a Book come true.
Why might they be hesitating?…because they think it takes too much time away from their business, where they are established and clients need them, and they might think it takes too much focus and energy to even get started, never mind, finish and publish a book.
This Program is for Established Coaches and Consultants, and these might be working in professional areas, like Business Coaching, Leadership Coaching, or they might be doing Health & Wellness work, like Energy Therapy, Pain Relief Work, or it might be work with People on Mindset, like NLP, Trauma Therapy, Money Matters, whatever they are coaching or consulting in, important is they are getting great results with their Clients and know it is time to spread their expertise further and wider (…and because many people have told them to write a Book!)
This unique program involves one personalized 90min set-up session followed by 6x 90min small (up to max 5 people) group sessions, one per Week, for a total of 6-Weeks, where we work on the following:
1.- Getting Complete Clarity
Getting complete clarity on who you are writing for, how they will read your Book and what they will do in response to reading your Book!
This is one of the most misunderstood parts of writing a Book the 'traditional' way. In this step you will evaluate who your best client is, why it is your best client and what it takes to grab their undivided attention with your Book, so they will want to know more about you and your methods, leading them to want to work with you, over anyone else.
[I take you through a lot of questions, including some you've probably never considered before, to define what the outcome for you and your reader, will be]
2.- Understanding Exactly What the Book can do for you
Understanding what the Book can do for you and determine how you will make Money with it. It is a misconception that Book Sales will make you a Million Dollars. We will be looking at what is already in your Business that you can expand to make more Sales or higher Profit Sales. It might be that your Book becomes a lead generation tool that takes those leads to a nurture list, ready to convert them to clients, or we look at how your Book can directly bring you Client enquiries.
[I give you my proven chapter outline framework and help you to apply it to your particular book topic. You will also discover how you can use that same framework to write any social media post, blog post or article, fast and simple, anytime on any subject.]
3.- Writing your Book Amazingly Fast
Writing your book amazingly fast, in just one day, in some cases, using my unique writing formula.
It is a complete Myth that you have to write a few pages a day, wait for inspiration, and write a bit more the next day, taking years in some cases, to finish your writing!
With the clarity you gain in the first two steps of this program, your Book Topic and Title will have emerged, along with the Chapters. It is that framework that allows you to bring your actual Book content together, almost at the speed of light!
[I show you the fastest process for writing in a way that proves you're the expert, warms up your readers to contact you and pre-sells them so you don't get price objections once a prospect contacts you. Together, we will also go over your existing social profiles, website and other content with a fine-toothed comb to make sure it's going to fit with what you are creating with your book!]
4.- Setting in Motion the Power of PR and Marketing
Figuring out how to position you and your Book so the promotion path becomes smooth and seamless, is part of this step. You as the Author are an important part of the Book and PR.
The Marketing of the Book is mapped out, so you are always, everywhere ready for media appearances and interviews, as one promotion option.
[I give you my entire system for Instantly positioning yourself as the recognized expert and authority in your field. You also get all the details that show you how to Create Your Hook & Story and Your Positioning Content, Bio and Platform]
5.- The Super Simple Process to Publishing 
Learning the super-simple process for formatting and publishing your Book on the multimillion member and global buyer platform Amazon, in both versions, Print and Kindle – all included! You can do this as early as your manuscript is ready or much later. Detailed instructional Videos are available to watch, 24/7 that make is simple to take this step anytime.
[Items 1 through 5 above are so powerful and unique, you can 'rinse and repeat' for any other book you may wish to write in the future and you always have the content writing formula that allows you to create all your online and social media content as well as your book, almost without effort]
This program is like nothing I've seen in the marketplace. It truly is a full end-to-end book writing, publishing and marketing system, attracting paying clients, Dream Projects and High Profit Business Opportunities, to you, put in place over just 6-Weeks.
That means it's not just writing, not just editing, not just formatting, not just publishing, not just marketing…but ALL of the above. And looked at completely so we can make sure that all aspects "gel" and work together well.
The investment for the program is well under five figures. Which, if you get each of the components separately, can cost you close to seven figures, not even considering the years many spend just writing and re-writing the manuscript!
In order to be a good candidate to get results with the program, you must be an established Coach or Consultant, in any of the areas mentioned earlier, but not limited to, important is you are getting great results with your Clients.
You do NOT need to be a writer and you don't need to have existing content, although if you have, it'll make the process even faster for you!
If interested, simply use one of the methods below to contact me. We'll have a quick chat to see if the program is a good fit for you and your business. If so, in many cases, we can start the same day!