Three times International #1 Bestselling Author, Business and Marketing Consultant and Coach, Sigrid de Kaste is the Founder and Director of Stickybeak Marketing®
Originally trained as a Photographer, Sigrid has worked in Advertising, Public Relations, Retail, Management, Marketing and has owned a number of Retail Stores in which she quickly doubled profits and tripled turnover
Sigrid formally studied Marketing and has direct experience of starting up, building, and selling businesses; together with the different types of marketing that is required during each of these phases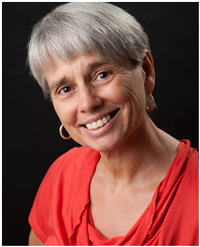 Working with Australian and international businesses from a vast variety of Industries, Sigrid stays ahead with the latest Marketing Developments, including Website, Online and Social Media Marketing
With Stickybeak Marketing Department, Sigrid offers monthly support for Business & Business Owners for their Marketing Projects, Promotions, Market Research, Strategy Planning and Monitoring
Sigrid's specialties are comprehensive, systematic assessments, finding the core challenge of the business, strategically outlining the steps and monitoring for continuously improving the right marketing mix
Sigrid travels regularly, connects and works with business owners in Europe, the US and Asia. She is familiar with 4 languages and speaks English and German fluently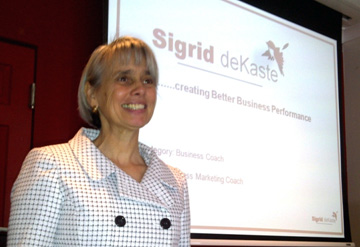 As an International Speaker Sigrid excels in delivering clear, practical, hands on seminars and workshops on the most up to date Marketing topics for clients and organisations
Sigrid has delivered presentations at 'The Jewellery Fair' in Brisbane, BNI Brisbane South, BNI Kuala Lumpur, BNI Switzerland, BNI Hong Kong and Coorparoo Business Group in Brisbane.
She presents at various Networking groups as well as regularly holding face to face and online workshops. As Director Consultant for BNI Gold Coast Region she created and presented weekly group training sessions over an 8 months period
Sigrid also offers personalized marketing workshops for businesses
She was called on to present at the 2013 Business Writers Conference and then to teach Social Media 'how to' for Real Estate Agents
Here some of Sigrid's Special Interests and Associated Websites
Community Project: Aged Care in Australia – Check it out and become a Supporter Click
ABC of Aged Care
Are you a Business Owner, maybe a Baby Boomer, who's worked hard for years and built a great Business?!
It's time to Sell Your Business, reap the rewards – yet Buyer after Buyer looks & does not buy!
I've sold businesses in a vast variety of Industries. There are 7 Important Areas in your Business that make up the Value – You want to highlight them for your Buyer.
Let me show you how that works!
I started with No Industry or Product Knowledge
3 Years of Testing and Measuring
I Doubled Sales and Profits
Created my Proven, Tested Marketing Success Formula
Down to Earth Strategies and Marketing that makes a Difference!
What is still the most Powerful and Proven Way to Stay Ahead of Your Competition and Make Sales?
Are you surprised that email marketing is still THE best marketing tactic you can use?
Maybe all the hype around social media has you thinking that Facebook, YouTube, Twitter or Pinterest is the only way to go?
The reality is, while these platforms are great for grabbing attention and building a list, they're based on social interaction and not so great for making a sale.
This is where email marketing is your power tool !
Discover your Existing Power to achieve … know what your Strengths are when you are setting a goal
Define your True Calling…it must be Authentic to the Real YOU
Are you Writing information articles and blog posts? It is one of the quickest, most effective marketing tool for every business to gain greater exposure and wider visibility
If you use Content Marketing, you know that good Blog & Article Writing means more Search-Engine Traffic, more Social Shares, and Ultimately more Customers
BUT …there are a few tips and tricks you need to know!
Make it to the Top in the World of Google – Google Optimization in 3 Easy Steps
Why Google is the Platform to be on
How it impacts your Business and Website Ranking
What you can achieve with integrating Google Hangouts